Custom Fitted Mouthguards
Custom Mouthguard Fitting & Creation.
Is a custom dentist made mouthguard better than one that is chemist or sports store bought and self-fitted?
The short answer is "Yes, a dentist made mouthguard is made in a laboratory to fit your mouth from a custom detailed impression taken by the dentist. It is more comfortable and less likely to be dislodged, therefore providing the ultimate protection for your teeth."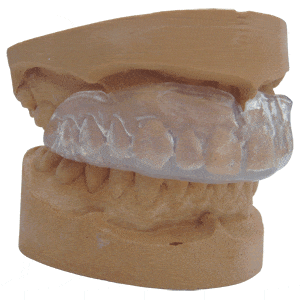 A custom-fitted mouthguard, created by your dentist, can help significantly reduce the risk of injuries to your teeth or mouth. They are also more durable than over the counter mouthguards and can be made in a wide range of colours and colour combinations to match your team.
Apple Dental can make custom-fitted mouthguards that offer greater protection and comfort than standard varieties, as they are specially designed by the dentist to fit the individual's mouth. This close fit, comfort and cushioning effect, allows them to provide the best protection for your teeth.
Types of Mouthguards
You can buy a lot of different types of mouthguards in sports stores or chemists which vary in price, durability, fit and quality. The 'boil and bite' style mouthguards are generally not strong and durable enough, and the poor inconsistent fit generally does not work to protect your teeth.
Custom Vs Over-the-Counter Mouthguards
Custom made mouthguards, unlike the "boil and bite" varieties from the sports stores and pharmacies are:
Well fitting and comfortable
Specifically suited to the individual shape, size and position of your teeth
Designed to ensure a tight fit, whilst allowing you to breathe and speak comfortably
Capable of providing optimal protection offered for your particular sporting activity
Available in personalised colours and designs to suit your preference or to support your favourite team
Most importantly they align the jaw to provide the best protection possible
How We Make Your Mouthguard
In order to make your mouthguard we:
Perform an assessment of your mouth to determine the fit, thickness and coverage required.
An impression is then taken of your teeth in order to produce a precise plaster model from which we produce a mouthguard that is uniquely yours.
When your mouthguard is ready, only a short visit is needed to ensure a correct fit.
We provide a special case to keep it in, and instructions on how to keep your new mouthguard clean and fresh.
While our custom mouthguards may be more expensive than a do it yourself 'boil and bite' style mouthguard, in this case, you definitely get what you pay for, as there is no substitute for the durability, fit, and protection of a custom-made mouthguard. Ask yourself, what are your, or your children's teeth worth?
Contact Apple Dental to find out more about protecting your mouth and teeth with a professionally fitted sports mouthguard.